Pure internet radios use the Pure Connect web management portal to manually add custom radio station URLs. Once you update your Pure Connect account with Calm Radio's URLs, they will then appear in your radio's Internet Radio menu.
To start listening to Calm Radio's commercial-free member channels using your Pure internet radio, you will need Calm Radio's custom URLs to input into the Pure Connect website.
Setup Instructions
Step 1
First, please visit the My Account menu on the CalmRadio.com website.
Select My Internet Radio URLs option from the side left menu
Select View Full Table
Choose either Port 80 URLs (preferred) or Direct URLs and look for your Internet Radio's brand name
Download or email the URLs you will need to enter into the MY ADDED STATIONS menu of your Pure Connect account.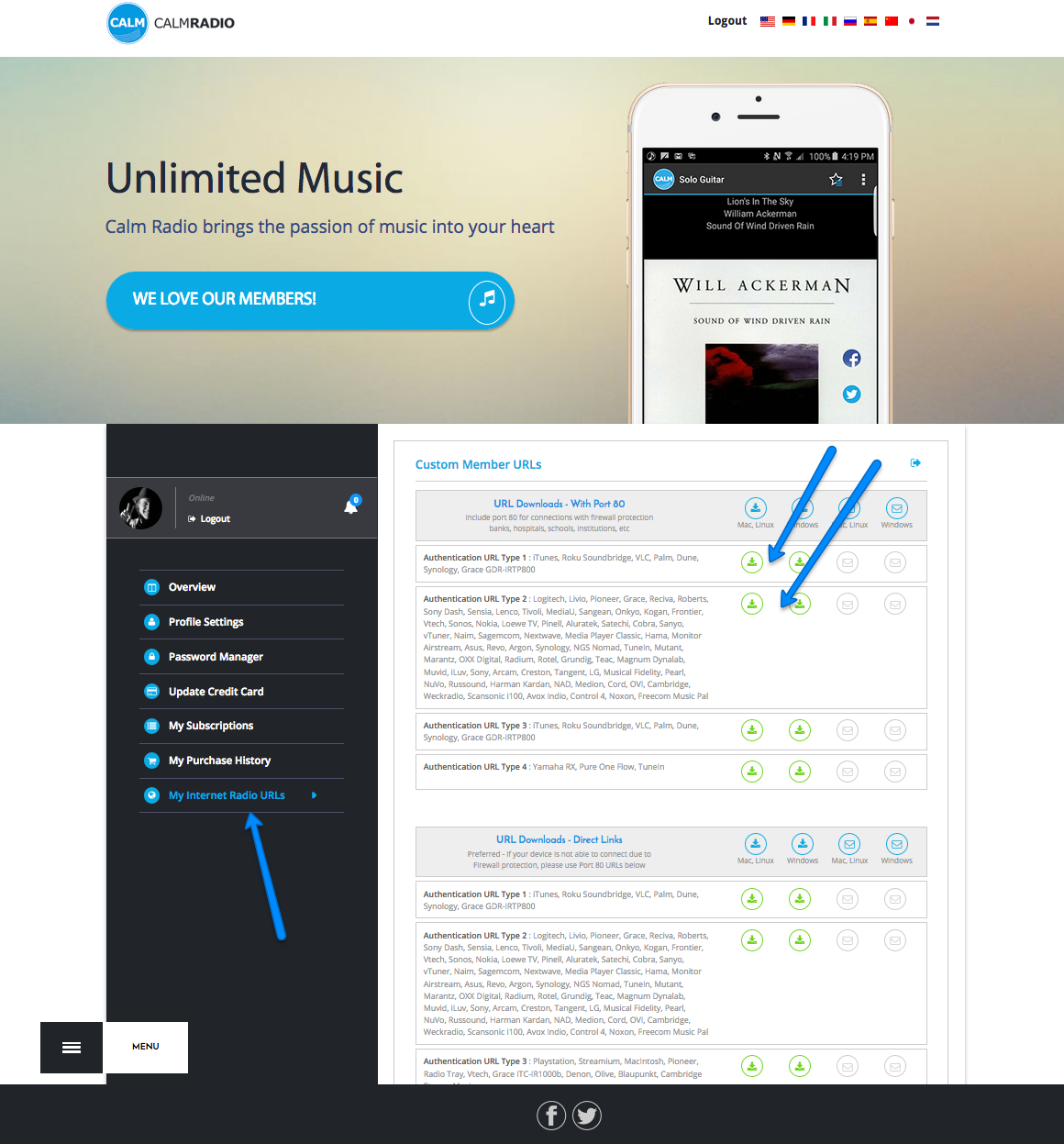 Please visit the My Account menu at the extreme top of our CalmRadio.com website. There, you can download or email the URLs you will need to enter into your favorites of your Pure Connect account.
Next, open an account at the Pure Connect (www.connect.pure.com) and you can connect your Pure radio device to the Pure Connect website to make your favourite internet content more manageable.
You can create folders and organize your favourites online and synchronize them with all of your Pure-connected radios. When you have filled in your details, Pure will send you an e-mail containing a membership activation link. Click this and your membership will be activated so you can log in.
Log in to the Pure Connect website and click on 'Add Device' under My Favourites in the left hand menu. You will be given a connection code to enter into your device.
From Pure Connect settings on your device, select Register with Pure Connect to enter your code. Use the Select dial to highlight and select characters, tap Delete to erase characters, and tap Save to finish.
Your registered Pure radio device is now listed under My Favourites on Pure Connect.
While logged into Pure Connect:
Look for "Favorites"
Then to the right of "Favorites" look for the "+" sign then choose 'Add Custom Station'
Fill in the name of the channel for example CALM RADIO - SOLO PIANO
Copy and paste the Calm Radio custom URL into the "Audio URL" section.
Add description, country, genre etc..
Click the "Create" button.
Your new Calm Radio channel will now appear under 'Favourites' on your radio device