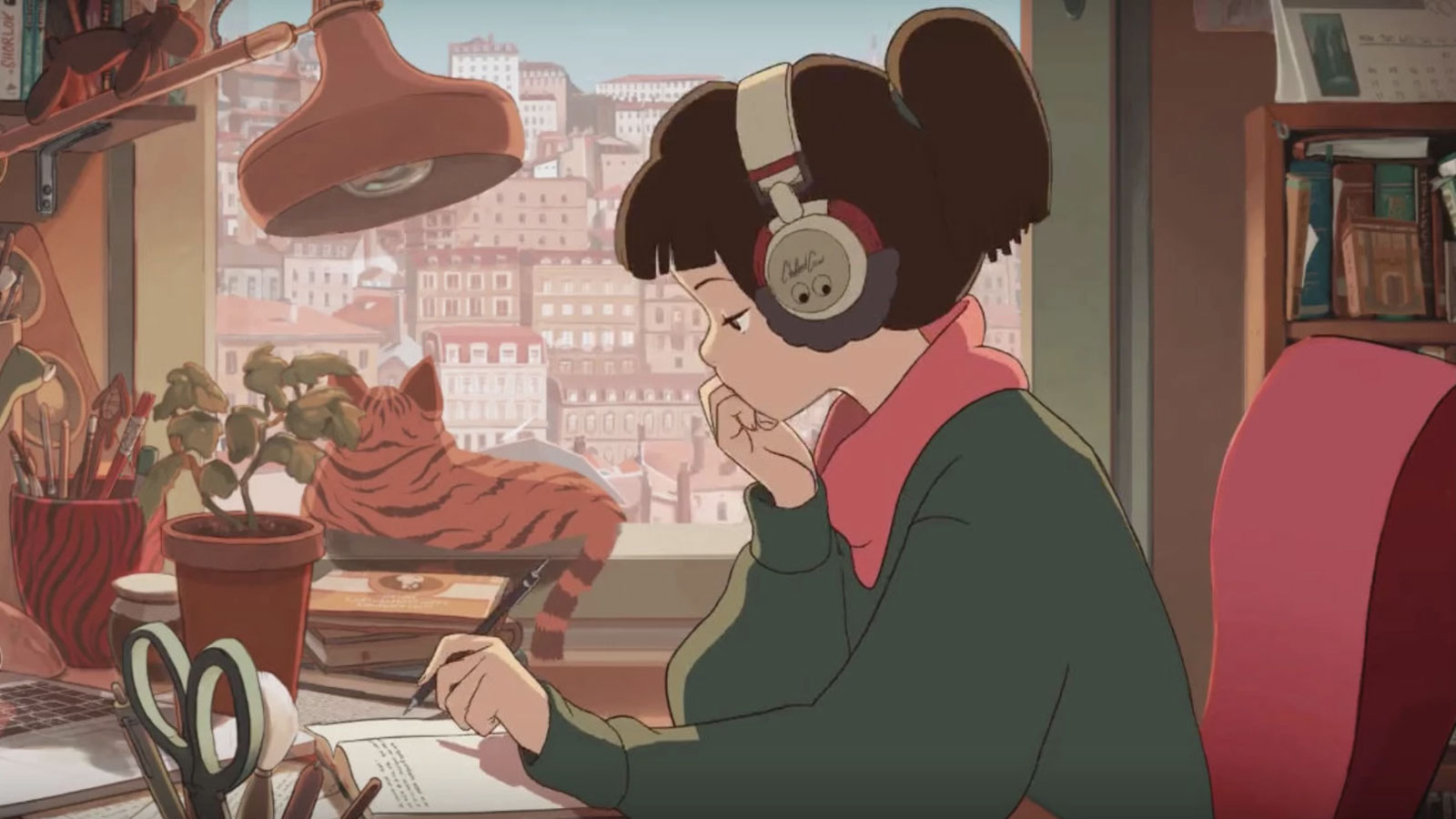 The image, which plays as a short live-action loop, is iconic in the chill-hop world. Across the internet, students are streaming atmospheric beats, often accompanied by an anime image or video, during times when they need to study, focus, or escape busyness and chill out.
The studying girl is the perfect stand-in for that busy university student. Endlessly writing and studying, day and night. No wonder she has become the most famous symbol for the most popular study music channel for students today. How did this intersection of chillhop, anime, and student life come to be?
If you've never experienced Chillhop, get ready for the wonderful combination of smooth jazz elements, dusty vintage samples, and laid back hip-hop beats. The different, yet complementary elements, create an atmospheric, instrumental soundscape that has become a popular internet subculture for students (or anyone looking to relax for that matter).
Its popularity is evident when you search online. There are numerous dedicated online channels hosting constant live streams featuring a variety of "Lofi Hip Hop" artists.
Though the term chillhop first appeared in the early 2000s, when artists like Nujabes, in Japan, and J Dilla, in the US, produced a lofi hip hop sound characterized by its use of ambient, trip-hop, neo-soul, and jazz.
Nujabes is considered the father of chillhop music. From Tokyo, the producer, composer, and record store owner gained notoriety in the US when the cartoon network Adult Swim began using his music for their commercials.
Riding a wave of nostalgia for those Adult Swim Cartoons and Toonami (who popularized Anime in North America), as well as classic hip-hop beats, Chillhop has exploded in popularity over the last few years thanks to the rise of streaming services and live streaming channels in 2011.
Chillhop Channel Creators curate streams dedicated to the genre, producing a 24/7 antidote to the fast-paced life many of us find ourselves in. It's no surprise that students find refuge there, in music that helps with study, focus, and concentration whether they are busy with school, gaming, or just lounging with friends. Science backs up the power music has to help students focus.
Research shows what many of us already know — music can help us concentrate. It does so by activating both hemispheres of our brain to maximize learning and improve memory. It provides non-invasive noise and pleasurable feelings, creating the distraction-free mood needed for quality studying. Though not intentionally designed for focus, lofi hip hop has the dual ability to be present to the listener while also fading into the background. It's less commercially driven than Muzak, and more the background music of choice for the new generation.
If you're looking for some slow tempos and relaxed moods for working, studying, or some downtime, lean back and turn on our Focus Beats channel. There's no need to look through the numerous streams online — we have a specially curated chillhop inspired station with the best contemporary and classic artists of the genre. It's the music that you want for a study session, when you need a creative spark, or when you need some chilled out vibes.
Sources:
Vice: https://www.vice.com/en_us/article/594b3z/how-lofi-hip-hop-radio-to-relaxstudy-to-became-a-youtube-phenomenon
Dazed: http://www.dazeddigital.com/music/article/40366/1/youtube-lo-fi-hip-hop-study-relax-24-7-livestream-scene
Wikipedia: https://en.wikipedia.org/wiki/Chill-out_music#Lo-fi_hip_hop
Photo by Gavin Whitner