The Backyard Hammock with Calming Cello Music
Strung between two trees, a canopy of leaves overhead, a gentle breeze and swaying branches. Your heart rate slows, your chest rises and falls with your natural breath, the dappled sunlight tickles your outstretched legs. Time seems to stand still when you're in a hammock outside. What a perfect way to spend a summer afternoon! Bring your wireless speaker out with you and stream our PEACEFUL CELLO calming music channel. It'll help mask the sound of your neighbours' kids on the trampoline.
Hammock on a Balcony with Relaxing Bird Sounds
If you have a treeless yard or live in an apartment, a hammock isn't out of reach! Sturdy hammock stands are a fantastic option, ranging from practical steel tubing to sheer works of architectural art! Apartment building balconies can be noisy places - the clamor of traffic and the city can interfere with deep relaxation. To achieve maximum enjoyment, lay back in your hammock, pop in some noise-canceling headphones and stream a calming nature music channel like TINY BIRDIES.
Hammocking Indoors with Waves Sounds
Hammocks aren't just to be enjoyed outside. More and more people are opting to install hardware to put up a hammock indoors for year-round enjoyment.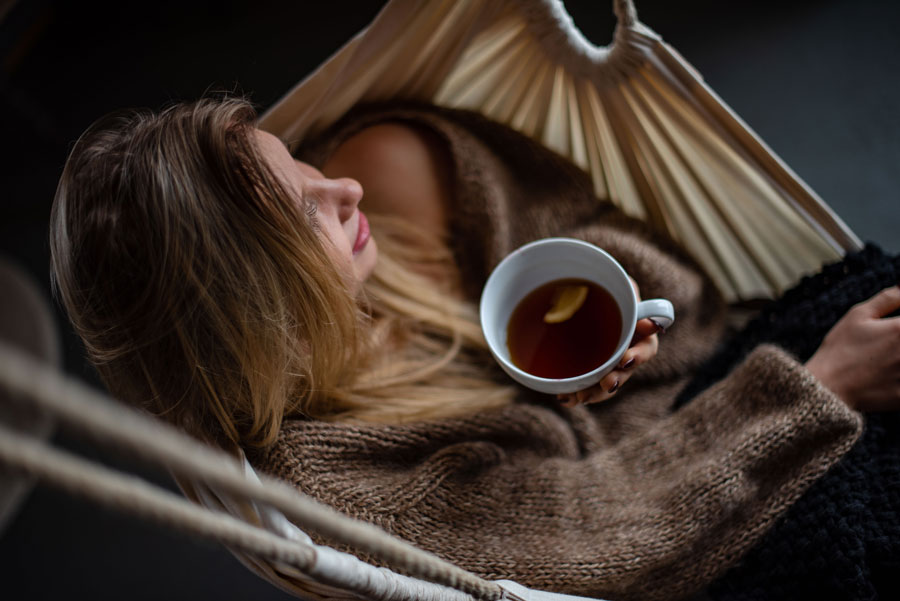 Escape the heat, stay cozy during a rainstorm, or enjoy sleeping away from the mosquitos. Believe it or not, napping in hammocks has been scientifically studied! It was a small study in which participants who regularly napped in their day-to-day lives were asked to nap in a gently rocking hammock for the study. They fell asleep faster, and their brain waves indicated a deeper sleep than participants that slept in a traditional static bed. So in the name of science, we encourage you to enjoy a delicious Sunday afternoon hammock nap while listening to relaxing music on our BEACH WAVES sounds.
Hammock Chairs and Classical Music
A cross between a swing and a cocoon, hammock chairs are sold in all types of sizes and colours. Kids absolutely love sitting and rocking in a hammock chair. Suspended from the ceiling from a heavy-duty anchor loop, they have a small footprint and can fit in just about any space.
Hammock chairs provide a perfect space for children to read, study, or enjoy a snuggle. Its gentle swaying motion has the same soothing effect as a rocking chair. A soothing, calming classical music channel like CALMING PIANO is a beautiful way to help a child relax in their hammock chair.
Hammocks: That Sweet Summer Feeling
Gentle rocking helps people fall asleep faster, nap longer, and sleep more deeply. The swaying motion is relaxing and soothing, especially to children. Combine fresh air, a hammock and a calming music channel to keep that sweet summer feeling going. Try one of Calm Radio's relaxing music channels the next time you hop in your hammock.
~
Listen to meditation music playlists on Calm Radio. Download the Calm Radio music app and enjoy 1000 channels of soothing sleep music, classical music, and calming music for meditation. Enjoy insightful devotional articles on faith and listen to calming Christian music here.