Thank you for becoming a member of Calm Radio, an exciting, easy-to-use and unique listening platform, with a beautiful fully-featured interface, hosting hundreds of great music and our custom-made Sounds of Nature channels.
We have designed the dynamic Calm Radio multi-featured browser interface to be intuitive, easy to use and visually stunning. It's available for any computer, and compatible with all major browsers. Calm Radio's patented Multimix Player allows any listener the ability to create a custom Nature Sound soundscape, to enhance your listening pleasure. It gives you the ability to wrap yourself in immersive natural audio textures, while listening your favorite calming music.
Selecting a Channel and Logging in
Open your browser, go to www.calmradio.com, and sign up for an account or login if you are a member.
While music is playing, hover over the album art and the menu options seen below will appear.
Click on the menu labeled "Music", found to the top left of the page beside the Calm Radio logo (see #1 on a picture below)
You will be taken to another section that lists all of Calm Radio's categories and channels
Click and choose a music category (click 'select genre')
Double-click on your favorite genre, pick a channel and it will start to play.
1 - Music player page (web version)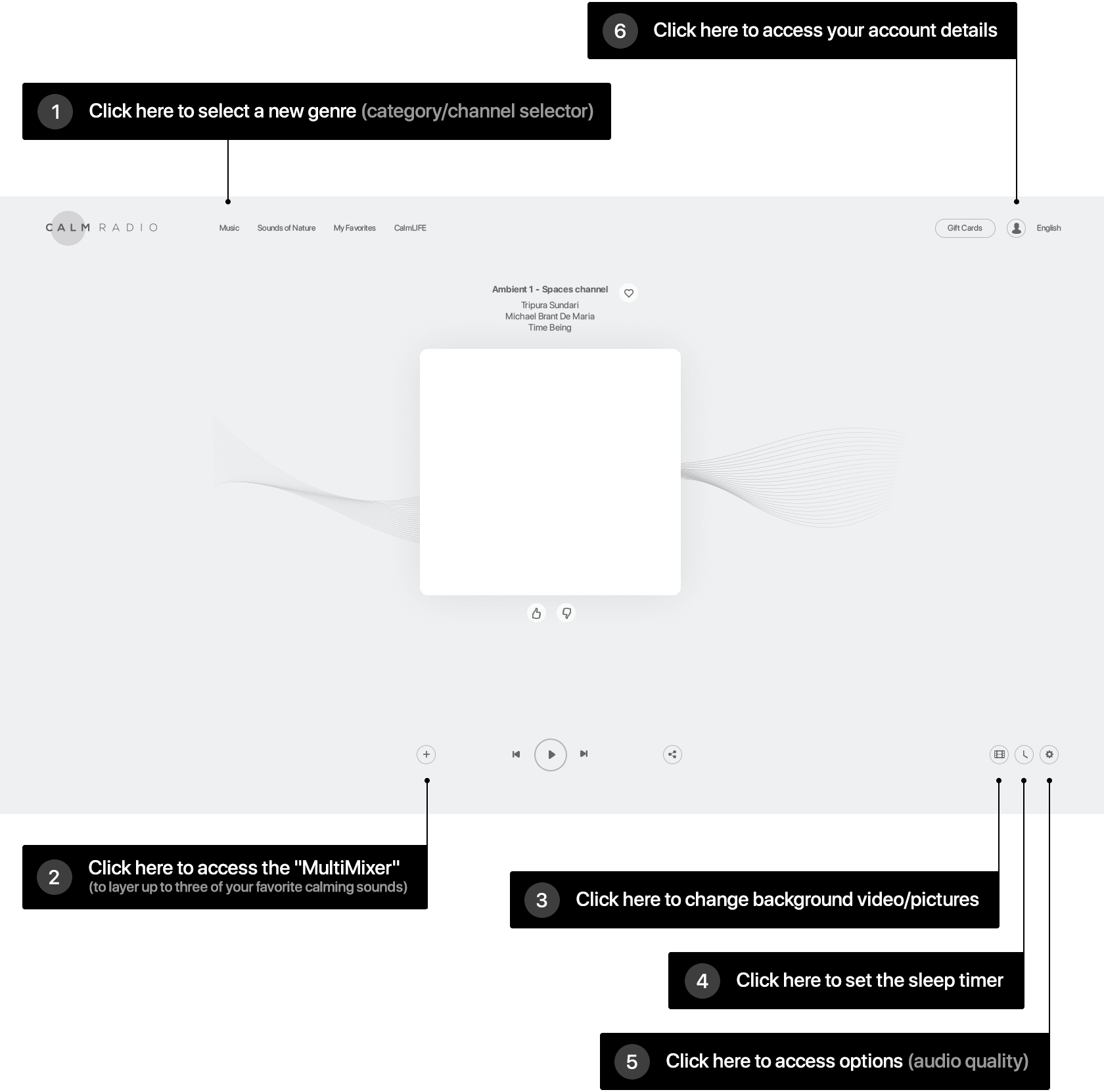 After clicking "Music", here is what the "Genre" page looks like (web version)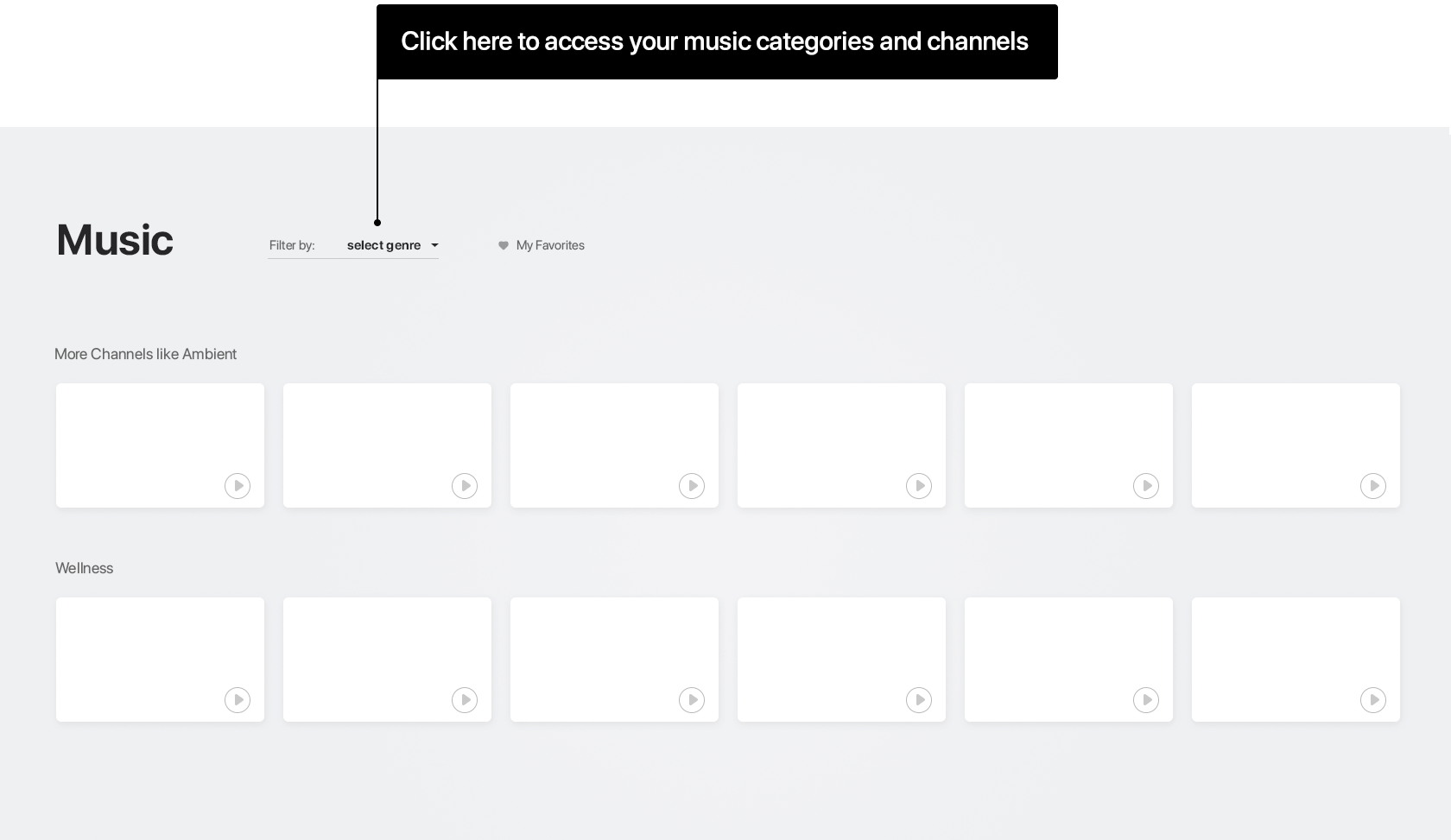 2 - Multimixing
Start playing a channel
Click on the plus (+) icon on the bottom left
Choose an additional layer (up to 3!)
The chosen layer will start playing alongside the music
Adjust the faders (sliders) to taste
Continue to add more layers (Nature Sounds) and have fun!
to remove a layer
Click the plus (+) symbol while playing your music, and you will see the channel and the layers
Go to the layer to remove, and hover over the picture of the layer (ie "Wind")
As you hover over the layer picture, click the minus (-) symbol that appears over the logo of the layer to remove it
Let your creative instincts paint your own Multimix.
Try adding different tonalities, high and low, for example add some Birds for the high frequencies, Whales for the middle frequency spectrum. Or try designing an "Outer Space" environment, using Earth, Delta Waves and Submarine. Your imagination is the limit!
* note: if you are on this page because your music has certain unwanted sounds while playing your Calm Radio channel, please check the layers (+) first to be sure that only your music is playing!
3 - Background video adjuster
To pick a new background or adjust the background to a solid color, please see the controls highlighted in the image below.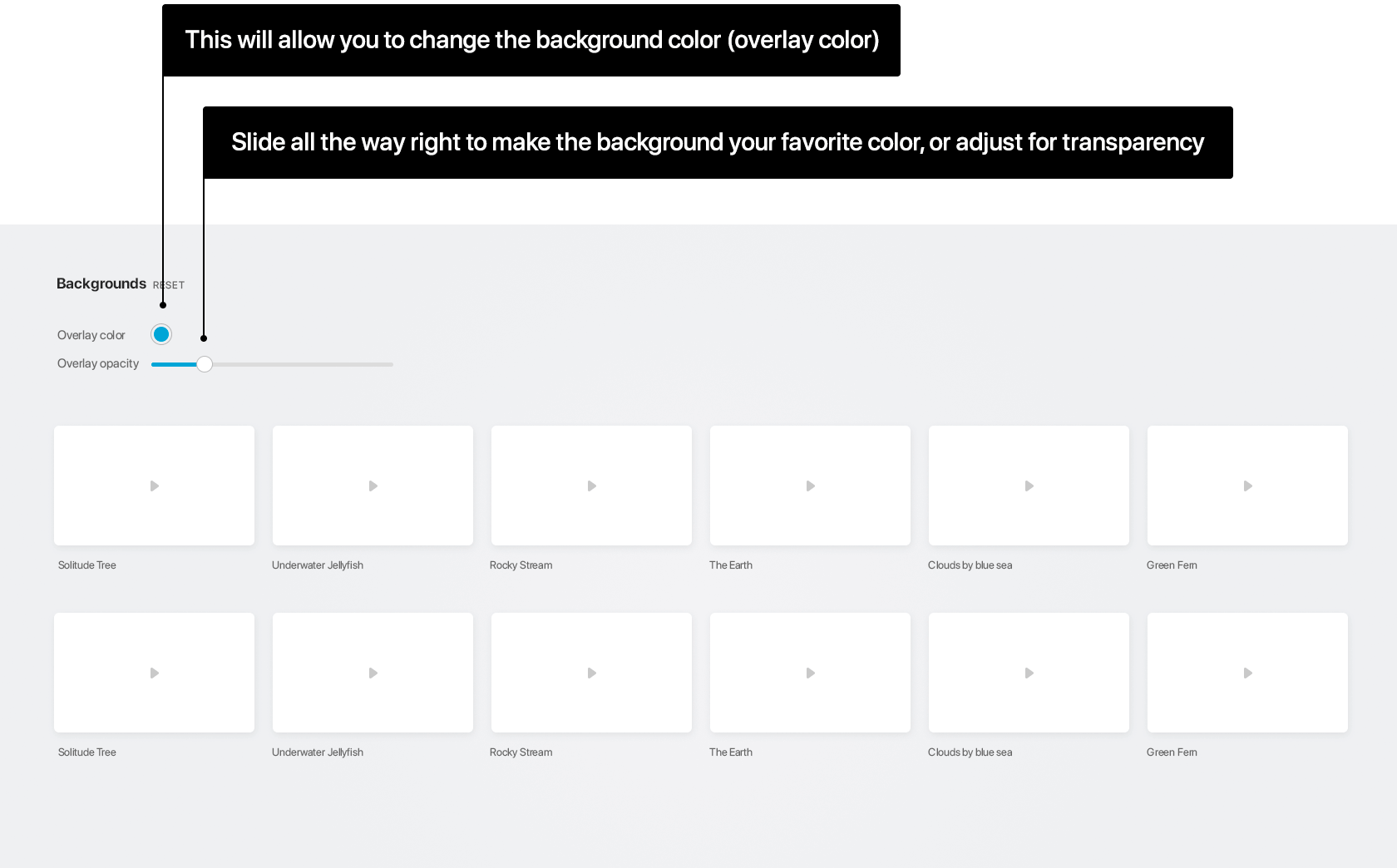 To change the background:
Start playing a channel
Click on the "movie reel" icon (#3 on image at the top of this page)
This will bring up the background controller
Select a new background
*To change to a solid color:
Pick the color of your choice by clicking the Overlay Color selector button (see above image), and adjusting to taste
Move the Opacity Control (see above) all the way right
You will now have the solid color background of your choice
4 - Sleep Timer control
Start playing a channel
Click the "Sleep Timer" control (#4 on image at the top of this page)
Choose a length of time before "Sleep Timer" starts
Have a carefree and calming sleep, as the music shuts down after your set time
5 - Audio Quality options
Start playing a channel
Click the icon to adjust the audio stream bitrate (HD, HIGH, MOBILE) (#5 on image at the top of this page)
6 - Account Details icon (Download URLS / change your information)
Start playing a channel
Click on the "Account" icon (top-middle icon - looks like a head - #6 on image at the top of this page)
Select "My Account"
You can now download your URLS for input to an internet radio, or change information related to your account
Members can reach us anytime at This email address is being protected from spambots. You need JavaScript enabled to view it. for questions or help, or alternately at https://calmradio.com/en/contact-us
Thank you so much for using Calm Radio!
Recommended Browsers
There are a lot of great browsers these days, so we will list them in order of our recommended preference: