The design behind all my latest Apple apps feature our advanced custom Multimix technology and include background videos not found anywhere. - Eric Harry
Calm Radio's New iOS App Features
* Add up to 3 additional Nature Sound channels to create your own Multimix
* Track skip
* HD 320K audio
* Equalizer feature for tailoring sound
Choose stunning background videos
iOS 12.2+ new compatibility fix released (fix CarPlay, BlueTooth, connected device issues)
Airplay
Chromecast
Accessibility for visually-impaired (VoiceOver compatibility)
Sleep/Wake timer
Available for IOS 9.3.5 and above
* feature for Premium members only!
iOS App Quickstart
Download our free Apple iOS app from the Apple App Store. (Search "Calm Radio")
(App looks like the icon below)

After the app has fully downloaded, select and open the blue CALM RADIO icon on your device's Home screen
Sign in, or Sign up for an account (Press Sign In / Sign Up)
The app will start on the HOME screen, where you can select a channel for playback or see your favorited channels (or you can go to the MUSIC menu).
Swipe up or down to see available categories, and swipe left or right view available channels.
Select to any channel to start playing.
You will now be taken to the NOW PLAYING section. You can tap the album cover to see the song information at any time.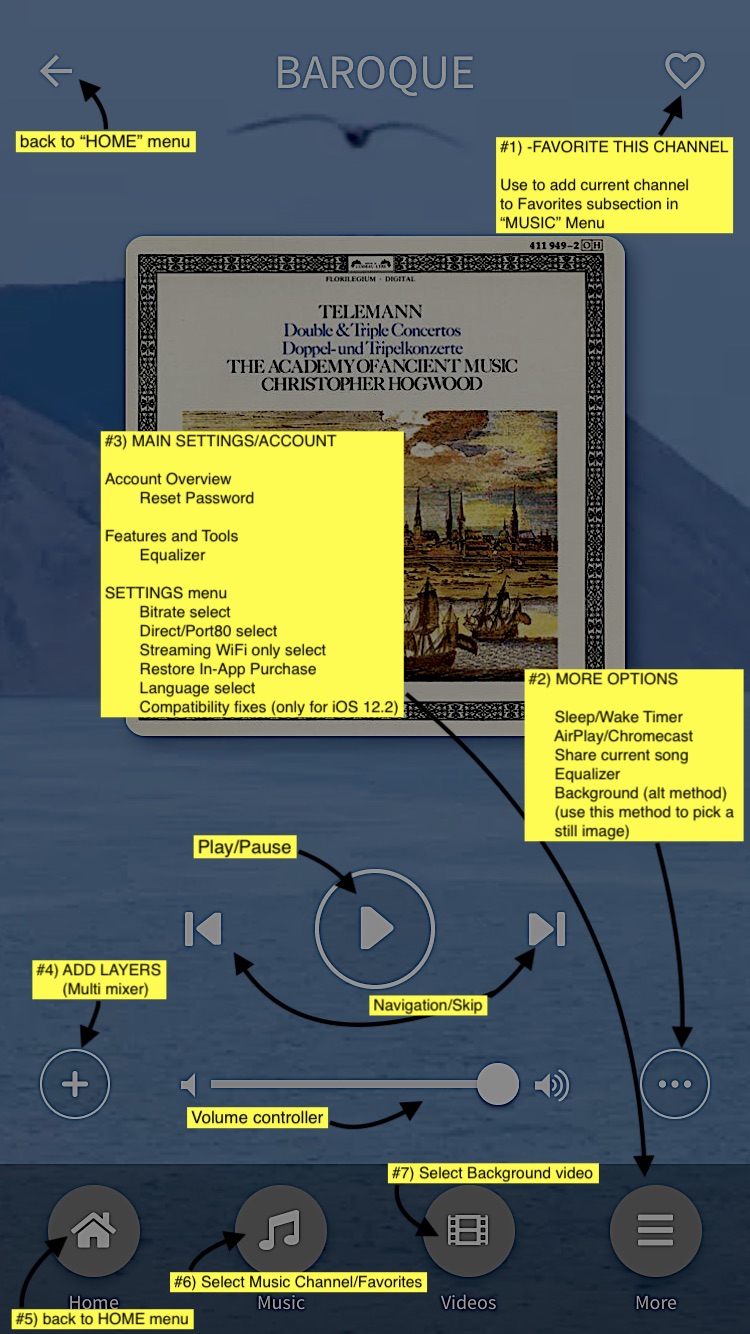 1 - "Favorite" This Channel
Use this to add the currently playing channel to your Favorites sub-section in the MUSIC menu, for easy recall of your favorites
2 - More Options Menu
Sleep / Wake Timer
AirPlay / Chromecast (see below)

Similar to using Bluetooth, AirPlay will connect any AirPlay-enabled devices when in-range.
For using AirPlay, please visit our Airplay support page here : AIRPLAY-CALM RADIO
For using Chromecast, please visit our Chromecast support page here : CHROMECAST-CALM RADIO

Share currently playing song
Equalizer -customize your sound
Background image/video selector - set the background to a wide array of stunning videos/images while you play.
3 - Main Settings/Account Menu
Pressing the "More" menu will bring you to the MAIN SETTINGS/ACCOUNT menu, letting you:
Edit your Account Details or reset your password
Pick an Equalizer to customize your sound
Access the SETTINGS menu, enabling you to

select bitrate (for slower connections)
select Direct or PORT 80 streams (Port 80 streams are for playback behind firewalls)
Streaming WiFi only selector (Play only while on Wifi network, to conserve cellular data)
the option to RESTORE IN-APP PURCHASE - If you don't see your in-app purchases. (If you restored from a backup, or you deleted and reinstalled an app that you've made in-app purchases for.)
Language selection
Compatibility Fixes ( try this to fix playback issues-only for >= iOS 12.2 )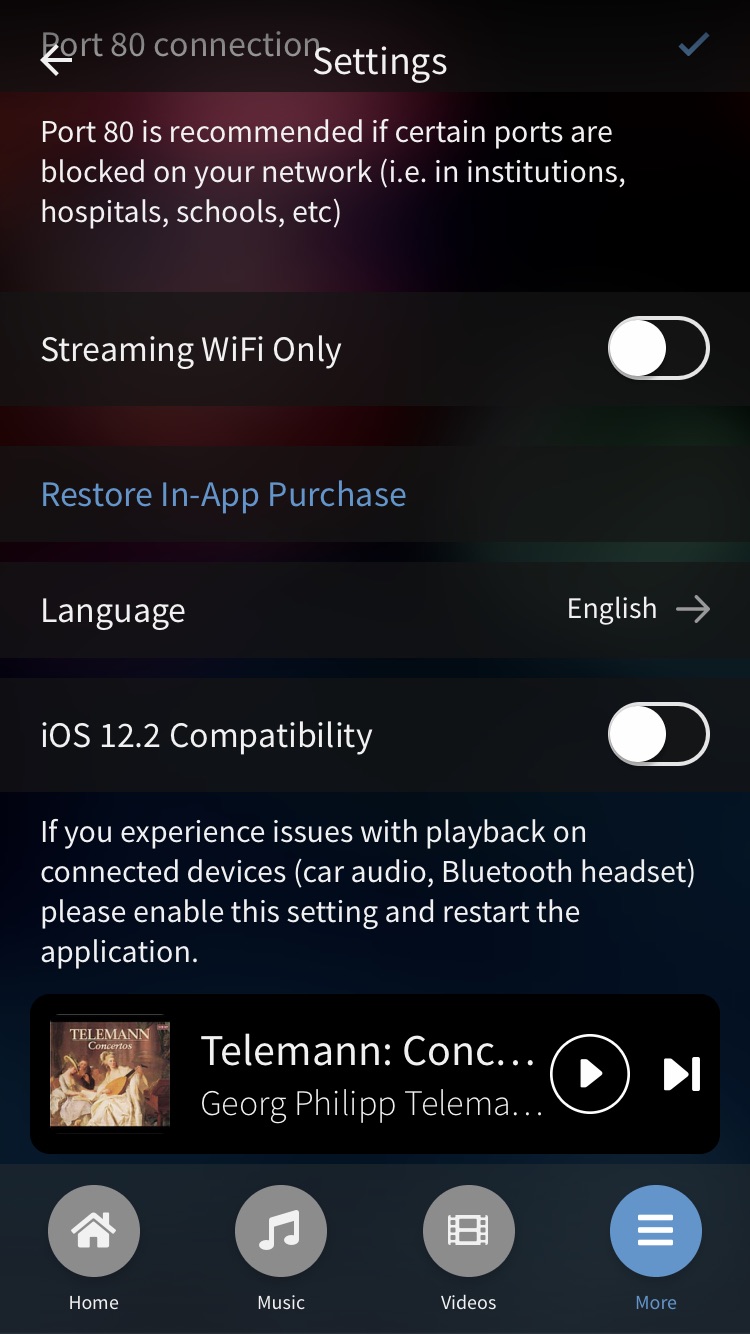 4 - Adding Nature Sounds (Multimixer)
Start playing a channel
Click on the plus (+) icon on the bottom left (#4 in the above picture)
Choose a layer (up to 3 layers can be mixed)
The chosen layer will start playing alongside the music, and the (+) icon will change into a number from 1 to 3 indicating how many layers are also playing
Adjust the volume faders (sliders) of each layer to taste
Continue to add more layers (Nature Channels) and have fun!
To remove a layer:
Click the plus (+) symbol (which will now have a number between 1 and 3 on it) while playing your music, and you will see the layers also playing
Go to the layer to remove, and click the "X" symbol that appears to the right of the layer, to remove it
Let your creative instincts paint your own Multimix.
Try adding different tonalities, high and low, for example add some Birds for the high frequencies, Whales for the middle frequency spectrum. Or try designing an "Outer Space" environment, using Earth, Delta Waves and Submarine. Your imagination is the limit!
* note: if you are on this page because your music has certain unwanted sounds while playing your Calm Radio channel, please check the layers (+) first to be sure that only your music is playing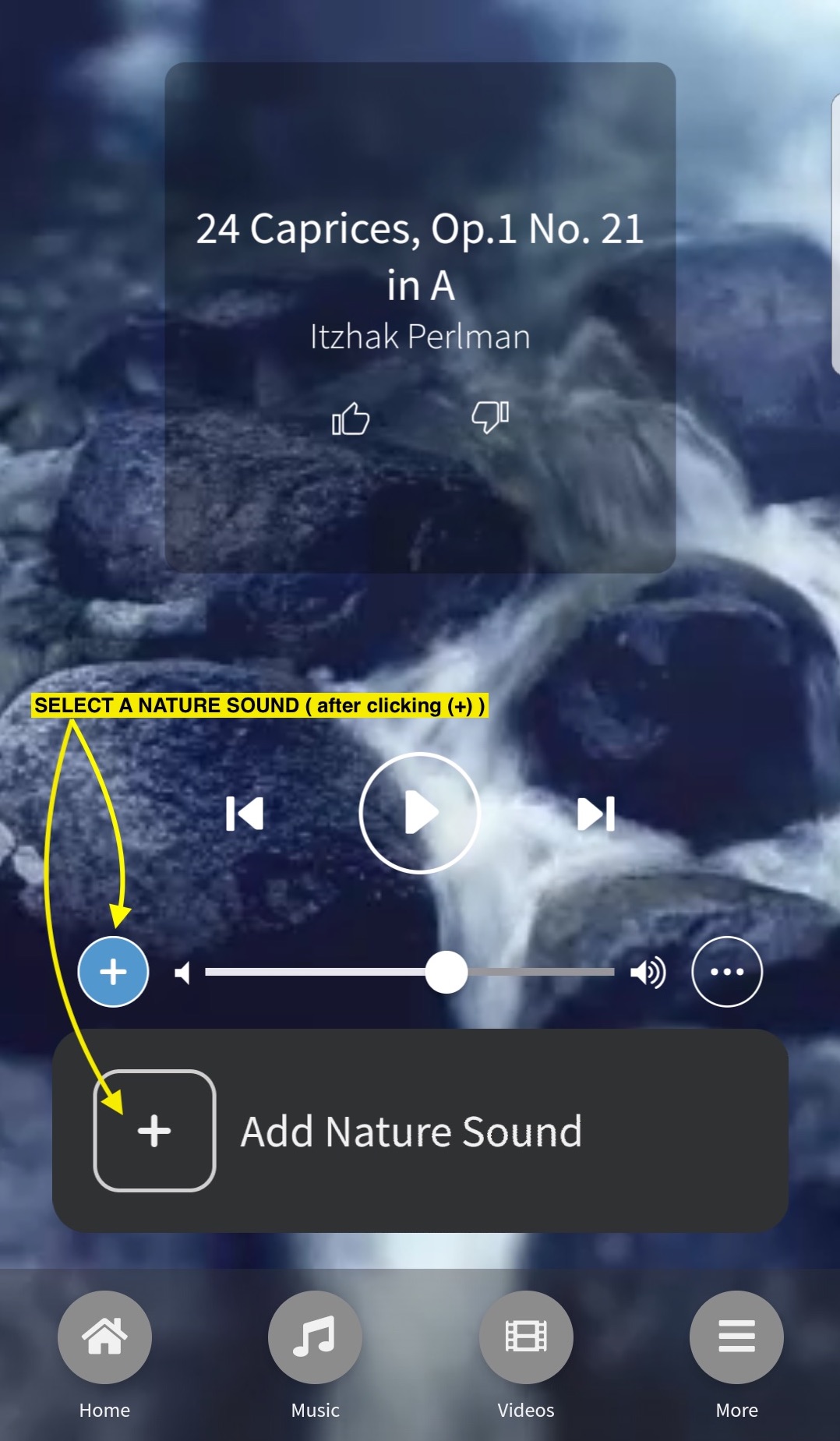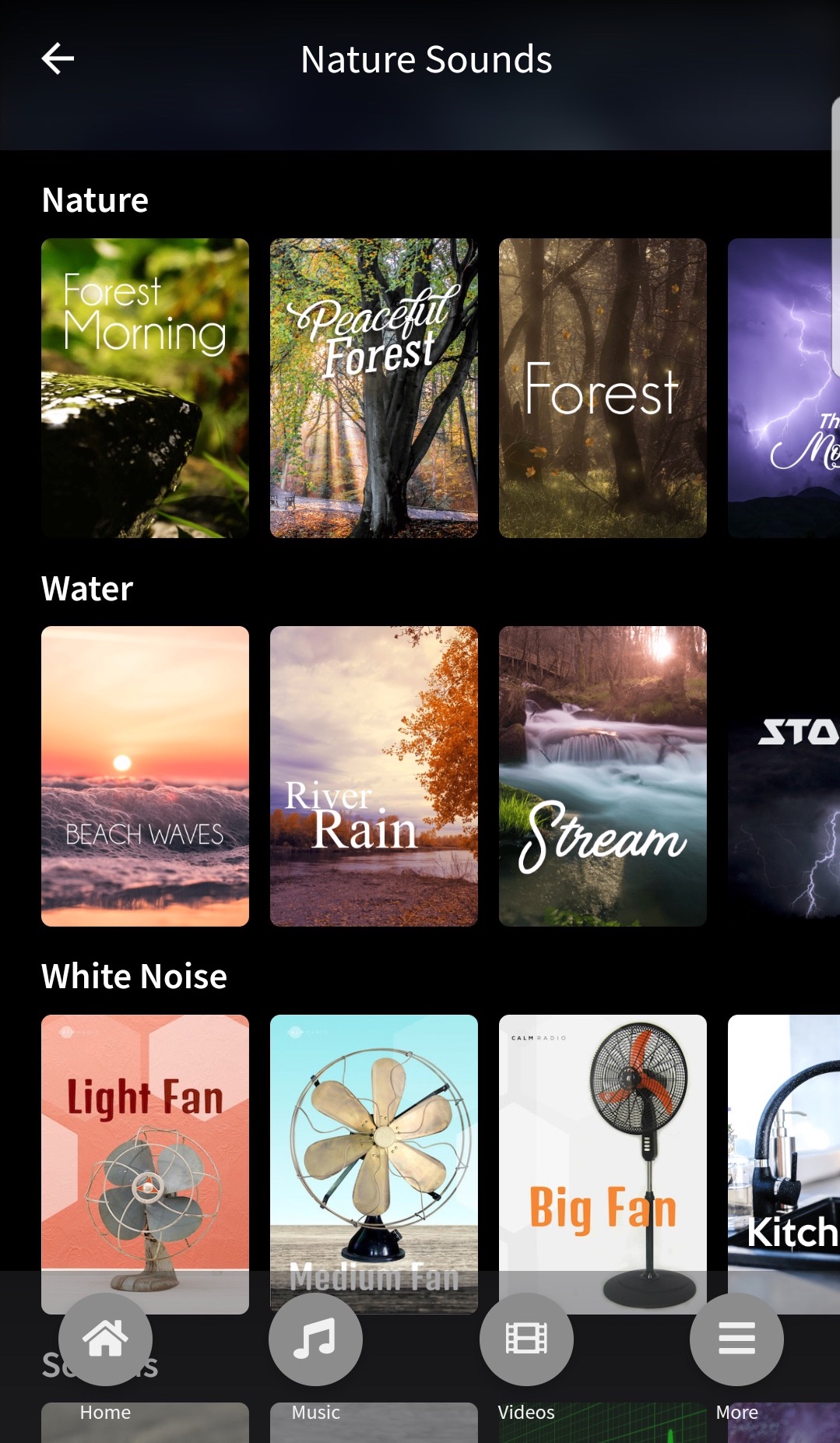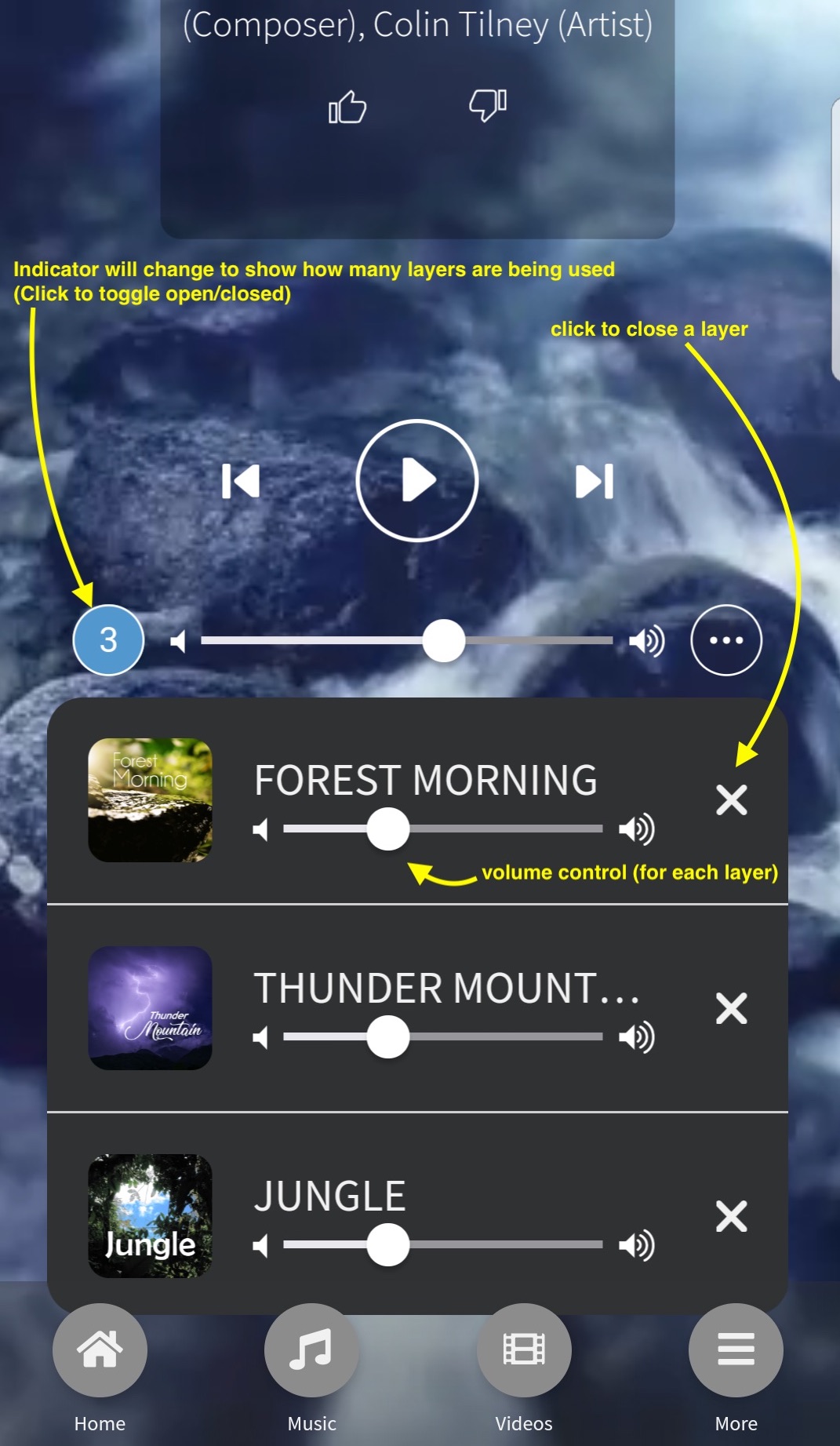 5 - Home Menu
For quick access to your last played channels, and popular channels and suggestions on Calm Radio.
6 - Music Menu
Choose from all of our channels, divided into categories and sub-categories for ease of navigation.
Search for a channel, artist, or keyword in all music sections.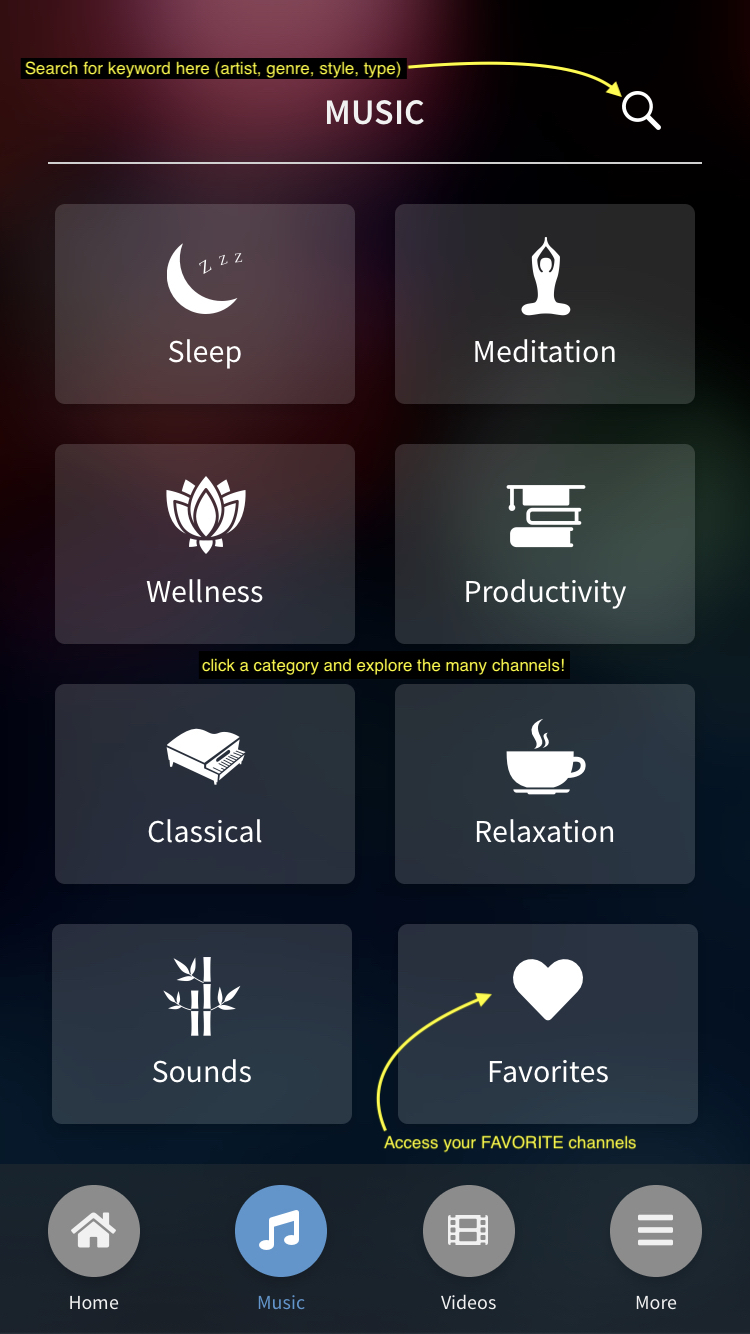 7 - Background video selection menu
You can select from beautiful moving video backgrounds to enhance your listening experience.
Troubleshooting
Stream Dropouts
If your device is losing connectivity due to either:
inconsistent or slow wifi / data
mobile signal is switching between towers
mobile data is switching between 3G and 4G
We highly recommend you enter the Calm Radio app's Settings menu and reduce the audio quality setting to either Normal or Mobile.
Hard Reset
Please see Apple's support page here:
https://support.apple.com/HT201559
Closing Background Apps
Your device may have too many applications open in the background memory which can cause your device to stall or slow down resulting in poor performance. Close as many apps as possible if your device response is slow.
Update your iOS
Your Apple device's operating system should be kept up-to-date. For many reasons like security, new features, you should always check and perform requested iOS updates.
Reinstalling
If in doubt, delete the Calm Radio by pressing and holding for 2 seconds then delete. Reinstall your app directly from the App Store. Download our free Apple iOS apps from the Apple App Store.