Let your creative instincts paint your own Multimix. Try adding different tonalities, high and low, for example add some Birds for the high frequencies, Whales for the middle frequency spectrum. Or try designing an "Outer Space" environment, using Earth, Delta Waves and Submarine. Your imagination is the limit!
Thank you for becoming a member of Calm Radio, an exciting, easy-to-use and unique listening platform with a beautiful fully-featured interface hosting over 250 great music and Atmosphere channels.
We have designed the dynamic Calm Radio multi-featured browser interface to be intuitive, easy to use and visually stunning, is available for any computer and compatible with all major browsers. Calm Radio's patented Multimix Player allows any listener the ability to create a custom atmosphere soundscape to enhance your listening pleasure.
Selecting a Channel and Logging in
Open a browser and go to calmradio.com
Click on the music note icon on the bottom bar
You will see a list of Calm Radio categories and channels
Click and choose a music category
Double-click on your channel choice
If this is your first time, you will be asked to enter the username and password you signed up with. It was also sent to you by email right after your membership purchase
The Calm Radio Music Player will now open and start playing automatically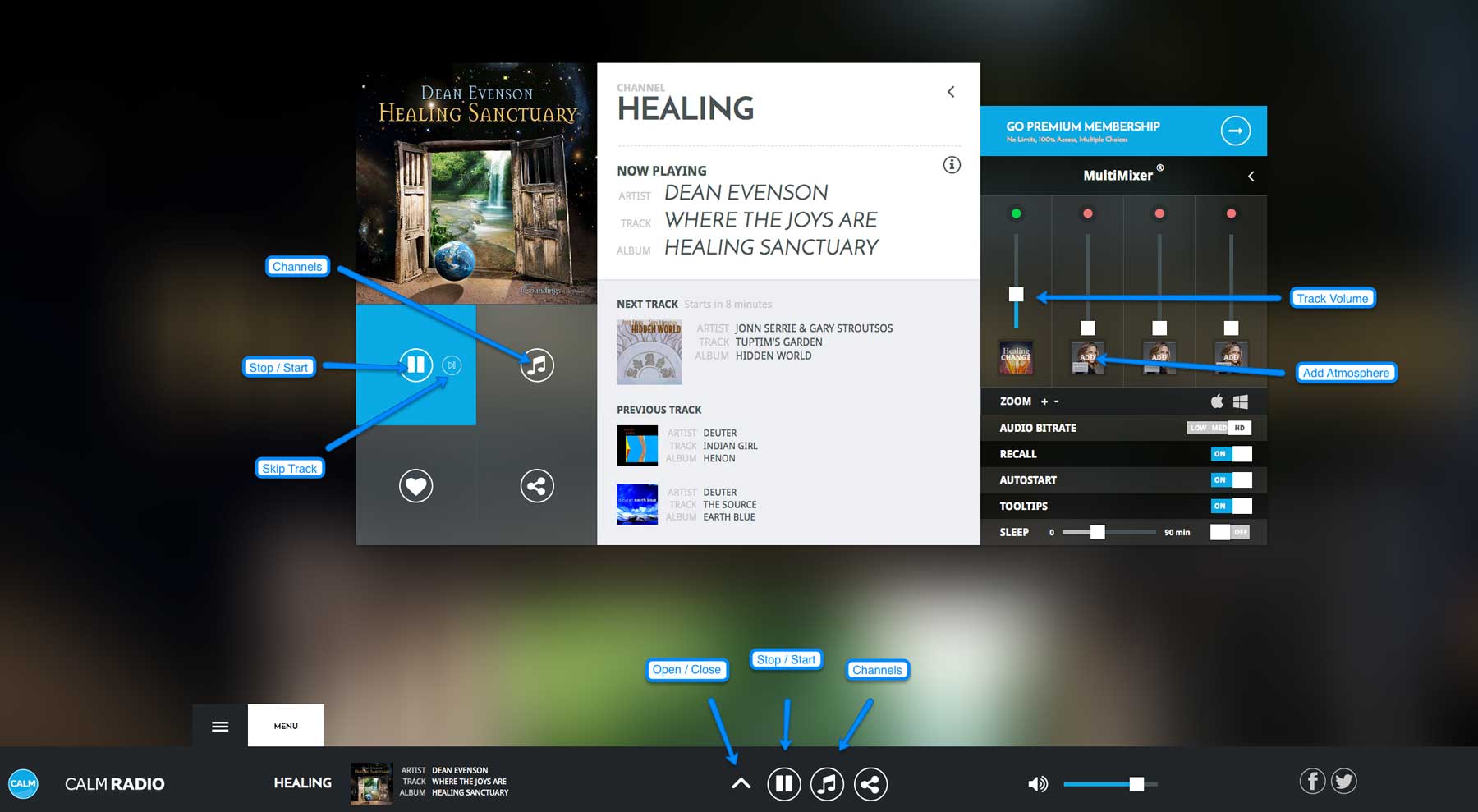 Multimixing
Choose a music channel as your first channel...like Solo Piano (in the Acoustic category)
Click on the "Add" button (just above volume fader 2)
Choose any Atmosphere
The number 2 volume fader will begin to rise
Continue to add more Atmospheres and have fun!
Recommended Browsers
There are a lot of great browsers these days, so we will list them in order of our recommended preference: