Want to listen without commercials and in HD audio quality?
Visit our Subscribe menu
Choose a membership
After upgrading, just login using the Calm Radio app on your Sonos (or if logged in, just change to another music channel in the app)
Free User Registration
Want to listen free on our Calm Radio's Sonos app?
Select the Register button on the top right of the website
Once registered, enter your login in the Calm Radio app on your Sonos
Using Calm Radio on your Sonos
Calm Radio is available free on the Sonos platform. Here is how to add us to your Sonos:
Install the Sonos Controller software that came with your device or download it from here
From your computer, open your Sonos Controller application
Look for the Select a Music Source menu on the right of the Sonos Controller window
At the bottom of this menu, select the Add Music Services menu

Select Calm Radio
If you already have an account, simply enter your login when prompted
Calm Radio's app will now appear under the Select a Music Source menu
If you do not have an account, you can purchase a membership here
Please Note!
Once you have installed the Sonos Calm Radio app, do not listen from the Sonos Favorites menu, as that holds our public channels (with commercials).
You should now only listen using our app listed under the Select a Music Source menu.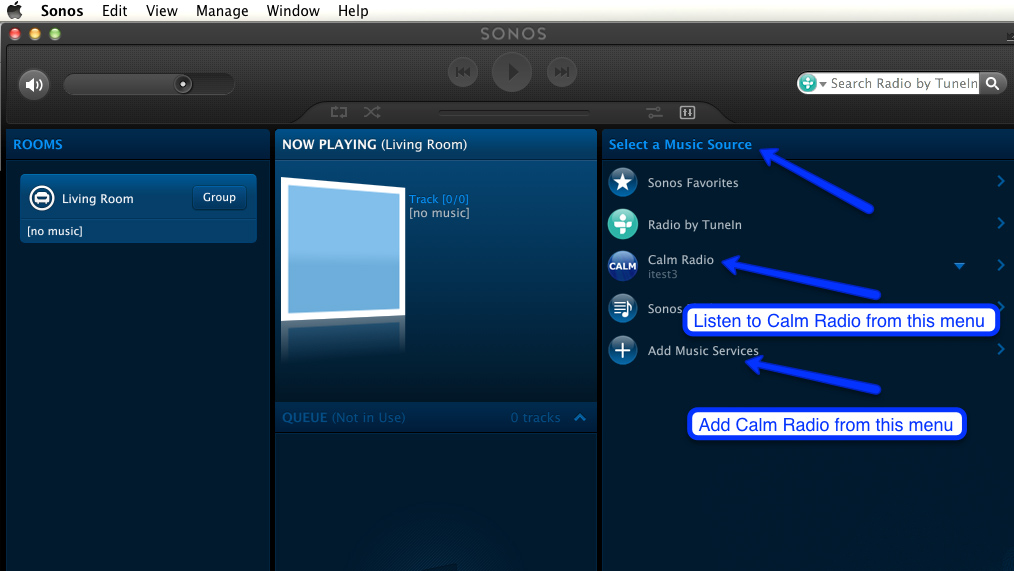 Sonos Controller Application