Many internet radios use the mediayou.net web management portal to manually add custom radio station URLs. Once you update your MediaU account with Calm Radio's URLs, they will then appear in your device's Internet Radio menu.
Setup Instructions
If your internet radio uses MediaYou.net, you can easily connect to Calm Radio using the MediaYou.net web management portal. You will need to start an account with MediaYou.net and then add URLs to the "Manually Add a Station" menu.
Here is how to use mediayou.net on your mediayou-enabled device:
Step 1
Visit the My Account menu on the CalmRadio.com website.
Choose "My Internet Radio URLs" from the bottom of the page. 
Select "View Full Table."
Choose either "Direct Links" (preferred) or "With Port 80" Authentication URL Type 2.
Download or email the URLs you will need to enter into your favorites of your internet radio's mediayou.net account.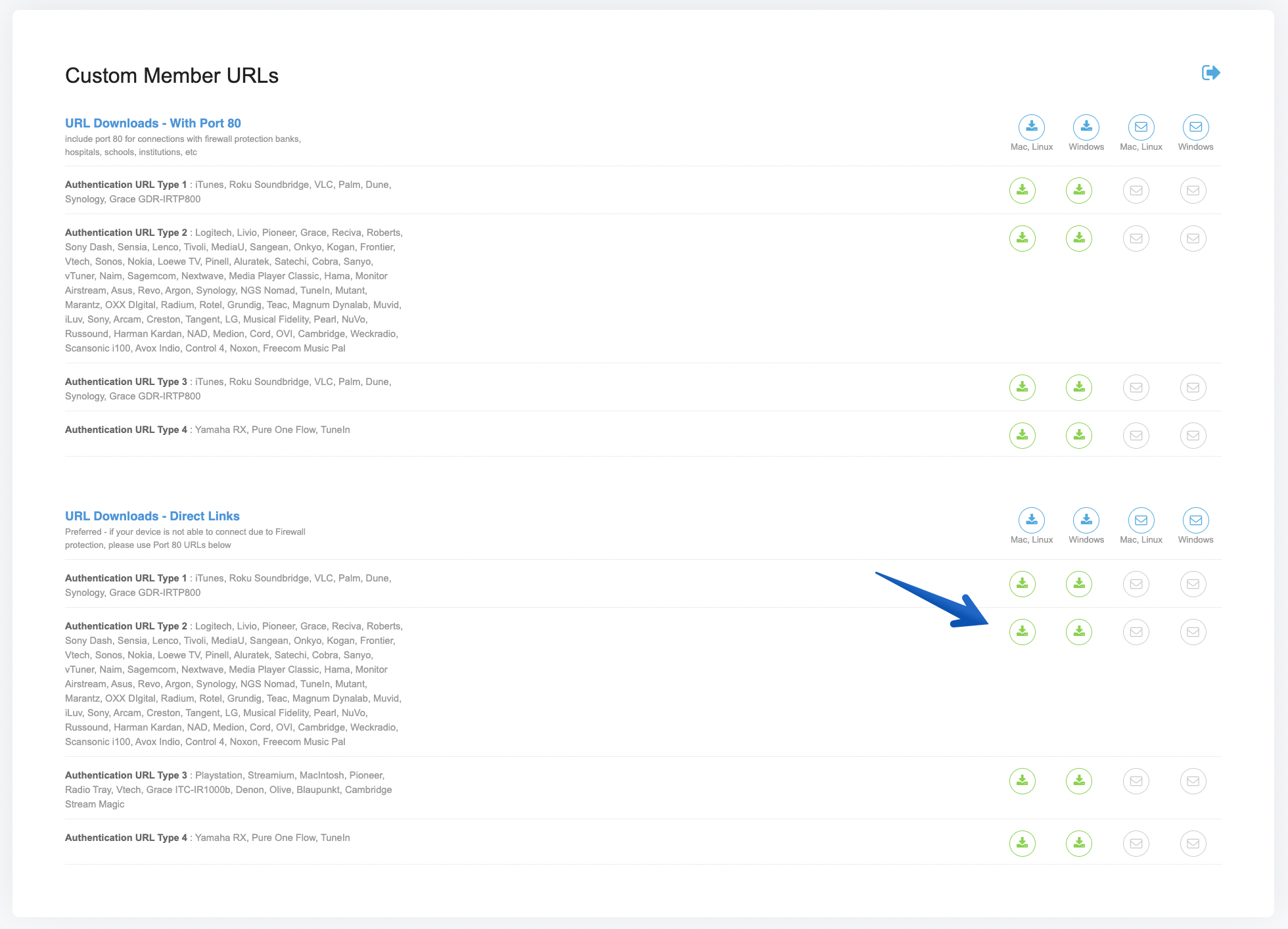 Step 2
Set up an account at mediayou.net
Click on the "Radio" tab
Add your radio's MAC address in the "Add Radio" box. You can get the MAC address on your radio in these menus: Information Center --> System Information --> Wireless MAC Address
Add a nickname for your radio...example: John's Kitchen counter radio
Click "Save"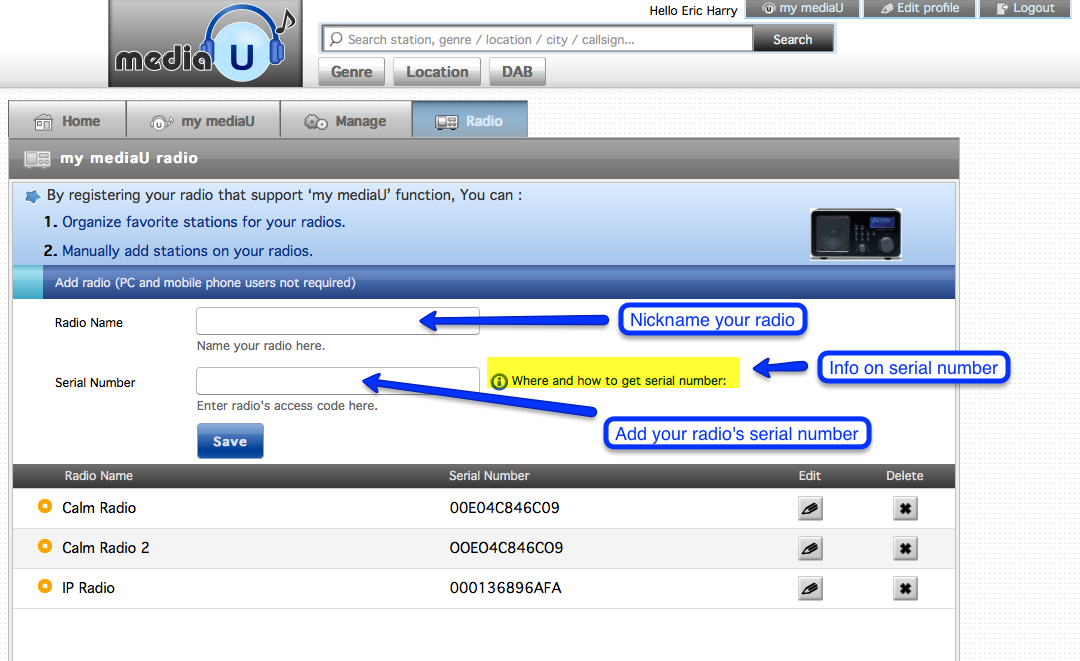 Step 3
Select the "My MediaU menu
Select the "Manually Add a Station" menu on the upper right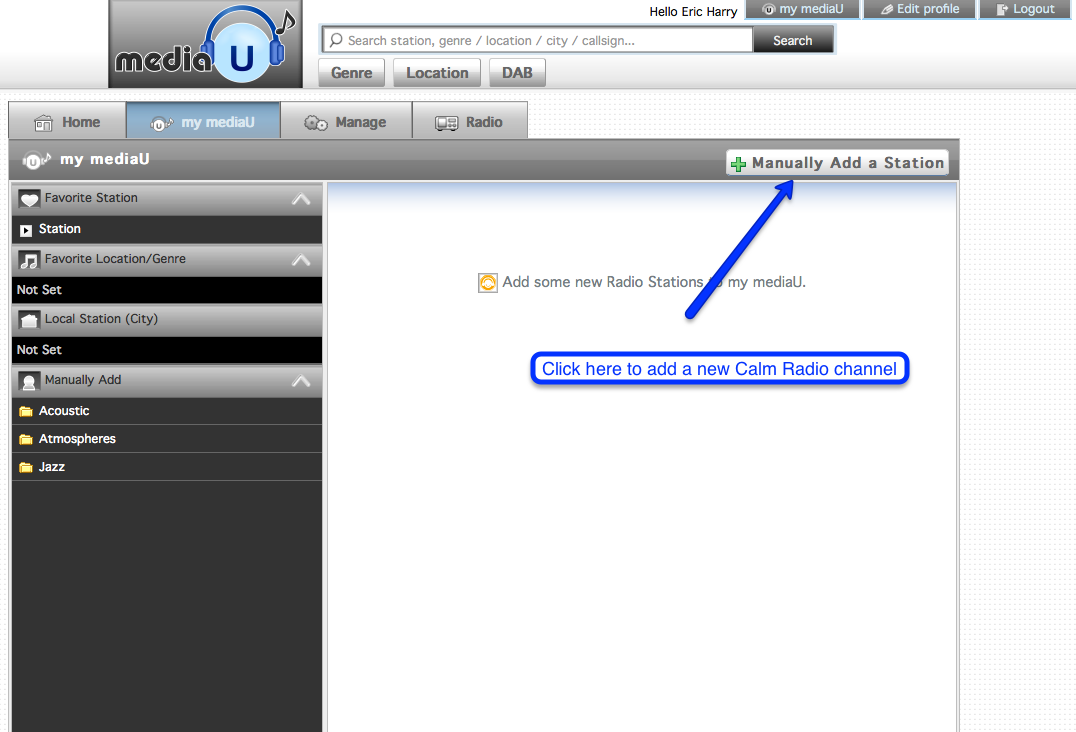 Step 4
Under the "Radio" box, enter a name for your new channel
Select the "Folder" menu dropdown and select a folder where you want place your channel...you can also create a new folder if you wish.
Choose "Canada" as your location
From your list of URLs, copy one URL and then paste it in the "URL" box
Click "Save"
Your new channel(s) will now show up on your radio under these menus: MyMediaU --> Manually Add